Welcome to Wyards Removals
Moving House is commonly considered to be one of the Top 10 most stressful life experiences. The very thought of moving house can fill people with dread – and experts say that as the most expensive and life-changing financial transaction most people ever undertake, it is indeed also one of the most stressful. We can't help with the mortgage, finding new schools or leaving family and friends, but we can take the worry out of the moving day, and ensure that your most precious possessions move safely so that you can create a new home as quickly and smoothly as possible. 

Wyards Removals is your local, national and international Removals company. We have over 90 years experience  in moving furniture, household equipment and personal possessions, and use all of this experience to move everything from antique gramophones to state of the art sound systems. We have the 'know how' to ensure that your move is tailored to meet your individual needs, and our move managers will offer advice every step of the way.

Visit Wyards Shop
Free moving quotation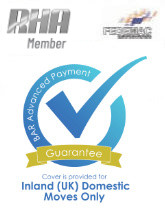 We adhere to the British Association of Removers Alternative Dispute Resolution Scheme which is independently operated by;

The Furniture Ombudsman
Premier House
First Floor, 1-5 Argyle Way
Stevenage, SG1 2AD
T: 0333 241 3209
W: Website